DETAIL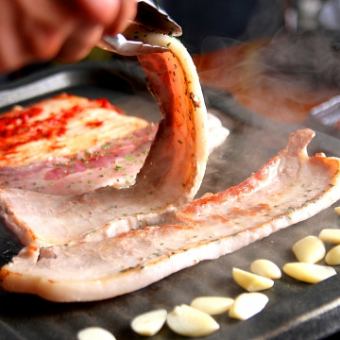 60 minutes All-you-can-eat course 1880 yen (for 2 people)
1880 yen
We have ordered a one drink.
【Raw Samgyeopsal + 1 kind selected from 6 species (in all cases + 200)】 All-you-can-eat course Samgyeopsal! 2 items with side dishes ♪
Menu

◆ Samgyeopsal all you can eat

Select one raw samgyeopsal + 6 species (+200 for all species)

(Green tea, wine, soy sauce, pepper paste, curry, herbs)

◆ 2 items of goods

◆ Sangchu, Sesame leaves, Negisharada, garlic, kimchi (only for the first time)

Add + Sundubu and Chijimi at + 500 yen

All you can drink at +1000 yen and 1 H

【Additional order】 200 yen each

Sangchu, Sesame leaves, Negisharada

Garlic, blue pepper, kimuchi

~~~~~~~~~~~~~~~~~~~~~~~~~~~~

● Recommended for Chod ●

~~~~~~~~~~~~~~~~~~~~~~~~~~~~

1. All-you-can-eat all-you-can-eat sesame gypsal

2. As stated by the name of the invitation (choode) staff Always welcoming you with a smile!

3.1 hour all you can drink 1000 yen!

One drink order system.
Coupon that can be used
Samgyeopsal 60 minutes all-you-can-eat 【1880 yen】
90 minutes eating and drinking as much as you want 【3080 yen】 Appetizer · With single dish ♪

Presentation conditions

At the time of booking and when visiting

Conditions of use

No other tickets / services combined use / over 2 people / 30 minutes extension with + 500 yen OK!

Expiration date

Until the end of October 2017